Tagiades waterstradti talanga Evans,1949

---
♂, 2017.01.13. Yala, Thailand.
♂, Yala, Thailand. (photo by S.Sophonviwatkul)
ON : Tagiades waterstradti talanga Evans,1949
OD : Cat. Hesp. Europ. Asia Austr. Brit. Mus : 145.
TL : Gunung Talang, Sumatra. (♂, NHML)
Distribution : P.Thailand (Yala), W.Malaysia, Sumatra, Borneo (Sarawak)
---
Records taken from Literature
[ THAILAND ]
"Tagiades waterstradti ; Evans,1926 : 72. (P.Thailand)"
"Tagiades waterstradti ; Godfrey,1930 : 362. (by literature, Evans,1926)"
"Tagiades waterstradti ; Godfrey,1932a : 275. (by literature, Evans,1926)"
Tagiades waterstradti ; Kimura et al.,2011 : 47. (by literature)
Tagiades waterstradti talanga ; Saito & Inayoshi,2018 : 39, fig.121,♂,♂(Un). (Yala)
Tagiades waterstradti talanga ; S.Sophonviwatkul, C.Sunthornwiphat & T.Laola,2019- : Butterflies of Thailand, fig. (Yala)
---
Specimens Examined
[ THAILAND ]
Yala : 7♂ (incl.photo by S.Atdhabhan & S.Sophonviwatkul) ; Betong dist.
2015.08.26. 1♂, S.Atdhabhan (photo) ; 2017.01.13. 1♂, Y.Inayoshi (YI)

| | | | | | | | | | | | |
| --- | --- | --- | --- | --- | --- | --- | --- | --- | --- | --- | --- |
| Jan | Feb | Mar | Apr | May | Jun | Jul | Aug | Sep | Oct | Nov | Dec |
---
Notes

This is the first reliable record from Thailand. Mr. Satawan Atdhabhan took a photo in Betong dist., Yala on 26.August.2015.
As Kimura et al.,2011 pointed out, The records of Evans and Godfrey are supposed to be Tagiades ultra or Tagiades vajuna.
The butterfly was found along the edge of the forest path near the hilltop (Alt.970m).
---
Literature

Evans, W.H.,1926 : The Identification of Indian Butterflies (Part. IX-XI)
J. Bombay nat. Hist. Soc. 31(1):49-83, pl.30, (2):427-446, pl.31, (3):615-637, pl.32.

Evans, W.H.,1949 : A catalogue of the Hesperiidae from Europe, Asia and Australia in the British Museum (Natural History).
i-xix+1-502, pls.1-35. London.
---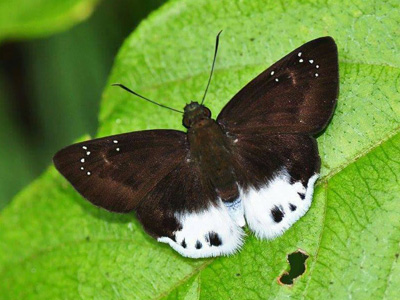 ♂, 2015.08.26. Yala, Thailand. (photo by S.Atdhabhan)
---
---
A Check list of Butterflies in Indo-China, Chiefly from THAILAND, LAOS & VIETNAM. Copyright © 1996- Y.Inayoshi.