Iraota rochana masashimaruyamai Saito, 2013
---
♂, Surat Thani (Koh Samui), Thailand.
Paratype (photo by K.Saito)
♀, Surat Thani (Koh Samui), Thailand.
Holotype (photo by K.Saito)
ON : Iraota rochana masashimaruyamai Saito,2013
OD : Butterflies 64:47-49, fig.8(PT,♂), 9(HT,♀).
TL : Ko Samui, Thailand. (♀, RIEB)

---

Distribution : P.Thailand (Koh Samui ; Koh Phangan).



| | |
| --- | --- |
| | ● ssp.pandara |
| | ● ssp.masashimaruyamai |
| | ● ssp.boswelliana |
---
Type Materials Information
Holotype ♀, 26.Aug.1996. Hin Lad waterfall., Ko Samui. M,Maruyama (RIEB)
Paratypes : 3♂ 2♀, same locality as holotype
---
Records taken from Literature
[ THAILAND ]
Iraota rochana masashimaruyamai ; Les Day,2011-2022 : Samui Butterflies, figs. (Koh Samui; Koh Phangan) (accessed: 2022.07.01)
---
Specimens Examined
[ THAILAND ]
Surat Thani (Koh Samui dist ; Koh Phangan dist.) : 1♂ 2♀ (incl. photo by A.Giudici).
♀, Holotype, 1996.08.26. Hin Lad WF, Ko Samui. M.Maruyama (KS) ; ♂, Paratype, 2007.08.10-12. Hin Lad WF, Ko Samui. M.Maruyama (KS)
| | | | | | | | | | | | |
| --- | --- | --- | --- | --- | --- | --- | --- | --- | --- | --- | --- |
| Jan | Feb | Mar | Apr | May | Jun | Jul | Aug | Sep | Oct | Nov | Dec |
---
Notes

The butterfly is uncommon at low elevations.
---
Literature

Saito, K.,2013 : The Scarce Silverstread, Iraota rochana from Indochina.
Butterflies 64:47-49.
---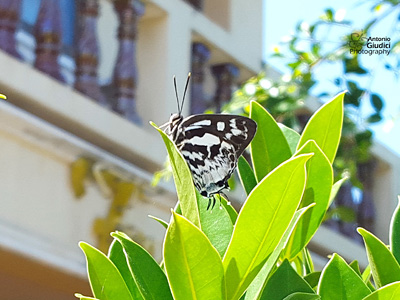 ♀, Surat Thani (Koh Phangan), Thailand. (photo by A.Giudici)
---
---
A Check list of Butterflies in Indo-China, Chiefly from THAILAND, LAOS & VIETNAM. Copyright © 1996- Y.Inayoshi.