Neptis zaida prasobchoki Saito & Inayoshi, 2014
---
♂, 1993.03.22. Phetchaburi, Thailand. Holotype
ON : Neptis zaida prasobchoki Saito & Inayoshi,2014
OD : Butterflies (Teinopalpus) 65:10, figs.55(HT,♂),(HT,♂Un).
TL : Kaeng Krachan, Phetchaburi, Thailand. (♂, in coll. Y.Inayoshi)

---

Distribution : P.Thailand (Phetchaburi).


| | |
| --- | --- |
| | ● ssp.inayoshii |
| | ● ssp.thawgawa |
| | ● ssp.hasegawai |
| | ● ssp.putoia |
| | ● ssp.prasobchoki |
---
Type Material Information
Holotype ♂, 22.Mar.1993. Kaeng Krachan, Phetchaburi, Thailand. P.Sukkit leg. (in coll. Y.Inayoshi, examined. The holotype will be preserved in NHML)
---
Records taken from Literature
[ THAILAND ]
Neptis zaida prasobchoki ; Kimura et al.,2016 : 82. (by literature)
Neptis zaida prasobchoki ; S.Sophonviwatkul, C.Sunthornwiphat & T.Laola,2020- : Butterflies of Thailand, figs. (Phetchaburi) (accessed: 2022.07.10)
---
Specimen Examined
[ THAILAND ]
Phetchaburi : 2♂ (incl. photo by W.Tangtung).
Kaeng Krachan dist., 1993.03.22. 1♂ (Holotype), P.Sukkit (YI)

| | | | | | | | | | | | |
| --- | --- | --- | --- | --- | --- | --- | --- | --- | --- | --- | --- |
| Jan | Feb | Mar | Apr | May | Jun | Jul | Aug | Sep | Oct | Nov | Dec |
---
Notes

The butterfly is rare in montane forest at moderate elevations (Alt.900m - 960m).
It is very similar to ssp.putoia. The color of the white band on the upperside is pure white in this taxon, whereas ssp.putoia is creamy-white.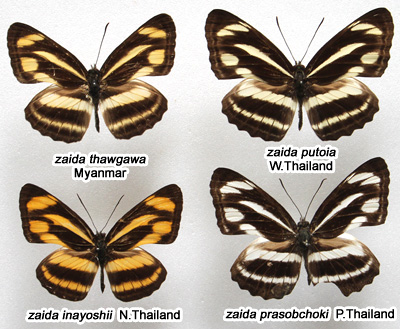 Comparison of 4 subspecies
---
Literature

Saito, K. & Inayoshi, Y.,2014 : Some notes of Limenitidinae from Indochina.
Butterflies (Teinopalpus) 65:4-19.
---
♂, Phetchaburi, Thailand. (photo by Wanpen Tangtung)
---
---
A Check list of Butterflies in Indo-China, Chiefly from THAILAND, LAOS & VIETNAM. Copyright © 1996- Y.Inayoshi.